How to Buy Fortescue Metals Group (FMG) Shares
Many consider hydrogen to be the strongest candidate for the title of future fuel and when you combine it with the material of modern infrastructure, iron ore, you get Fortescue Metals Group Ltd (FMG).
This article focuses on how to buy specific securities, however it is not a recommendation to invest in them and should not be taken as financial advice. Do your own research and make your own decisions, or even consider getting advice from a licensed financial adviser before investing.
Key highlights:
Fortescue Metals Group Ltd (FMG) is the third largest iron ore producer in Australia.

You can easily acquire Fortescue Metals Group shares and

invest in ASX stocks

with your Stake brokerage account.

Iron ore will always be a large part of Fortescue, but hydrogen will likely become a driver of future growth.
Founded in 2003 by Andrew "Twiggy" Forrest, the Fortescue Metals Group (ASX: FMG) rose quickly in the mining scene to secure the title of third-largest iron ore producer in Australia.
FMG shares are listed on the Australian Securities Exchange (ASX) within the metals and mining industry. Keep reading to learn how to buy Fortescue shares on the Stake platform.
How to buy Fortescue Metals Group (FMG) stock
Want to start buying FMG shares but not sure how? Learn how to buy Fortescue Metals Group stock on the Stake stock trading platform below.
1. Find a stock trading platform

To buy shares listed in Australia, you'll need to sign up to a broker with access to the ASX. There are a number of share trading platforms in Australia, of which Stake is one.
2. Fund your account
Complete an application with your personal and financial details. Fund your brokerage account with a bank transfer, debit card or even Apple/Google pay.
3. Search for Fortescue Metals Group
Find the share by name or ticker symbol: FMG. Do your own research to ensure it is the right investment product for your own circumstances.
4. Choose an order type and buy FMG stock
Buy on any trading day with a market order or use a limit order to delay your purchase of FMG shares until it reaches your desired stock price. Look into dollar cost averaging to spread out your risk, which smooths out buying at consistent intervals.
5. Monitor your investment
Optimise your portfolio by tracking how your stock and the business perform with an eye on the long term. You may be eligible for dividends and shareholder voting rights that affect your stock.
✅ Gain access to shares like Fortescue Metals Group, BHP and more when you sign up to Stake.
Fortescue Metals Group Ltd (FMG) overview
Andrew Forrest's future giant started from scratch in the undeveloped region of Pilbara, Western Australia. At this time the region was sparsely populated, unexplored and underdeveloped.
Still, Forrest had more than just a dream, he had a plan, and only one year later, Fortescue Metals Group announced the discovery of the largest bedrock iron ore deposit in Australia, at 2.4b tonnes.
FMG Base of Operations
The company, based in East Perth, still relies on the Pilbara region of Western Australia for most of its annual revenue. It has expanded operations in the region to three main hubs, with a fourth under development.
Its largest hub, in Chichester, includes the Cloudbreak and Christmas Creek mines. It also has its Solomon Hub and its Western Hub includes its newest development, the Eliwana mine.
The Eliwana mine commenced operations in December 2020 and already is producing at an annualised run rate of 30mtpa.
The company is progressing work for copper-gold in the Paterson region of WA, with additional activity underway in New South Wales and South Australia.
But that's not all, the company has expanded its portfolio internationally. It has a well established presence in Latin America, including copper-gold tenements in Argentina.
The company also has a range of projects in Peru, Kazakhstan and Portugal.
This has helped Pilbara to continue to boost its iron ore shipments. In FY21, Pilbara produced 182m tonnes of iron ore, forming a majority of the US$10b in net profit after tax.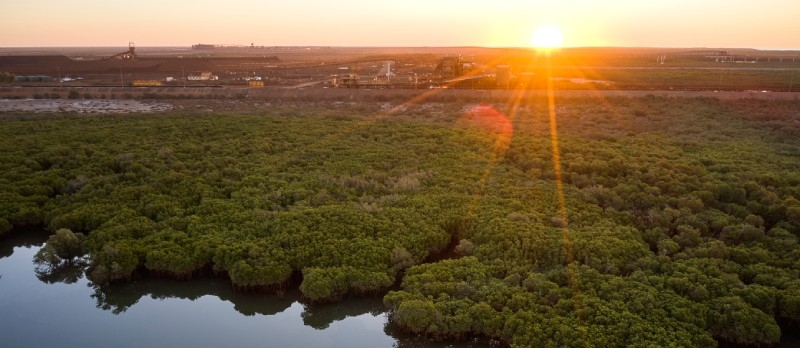 Source: Fortescue Metals Group Limited
Transport
However, it's one thing to mine a resource, another to transport it. The company made the investment decision to develop over 260km of heavy rail line to support this transportation. The total cost was $2b and through careful resourcing the company was able to start work on these tracks by 2006.
Because of this, the company now has 760km of "the fastest heavy haul railway in the world", eight 260,000 tonne capacity ore carriers, and numerous processing plants. But iron ore isn't the only future for Fortescue.
What's in the future for Fortescue Metals Group?
During FY21, Fortescue founded Fortescue Future Industries (FFI) to diversify its portfolio. FFI has the mandate to create a "global portfolio of renewable energy opportunities".
The true focus of FFI is to become a world leader in both green hydrogen production and manufacturing electrolysis machines and related equipment.
Still, FFI is new, and the company is still a ways away from hydrogen production. And yet, Twiggy has already proved it is more than an empty promise. On 10 October 2021, the FFI announced its first investment of up to US$650m, creating a Green Energy Manufacturing Centre (GEM) in Gladstone, Queensland.
The initial focus of this centre will be the production of multi-gigawatt-scale electrolysers, with the first expected to roll off the assembly lines in 'early 2023'.
The company aims to be carbon-neutral by 2030. It is gradually decarbonising its mobile fleet by shifting to hydrogen and battery electric energy solutions to achieve this aim.
Already it has invested over US$800m in energy infrastructure to increase the use of renewables.
Fortescue's FFI division has entered a memorandum of understanding with Airbus to implement green hydrogen as a fuel in the aviation industry.
💡Related: ASX Hydrogen Stocks: Top 10 Hydrogen Shares to Watch→
Fortescue Metals Group share performance
Historical performance is one of many metrics that investors look at when analysing a company. But past performance is not a reliable indicator of future performance. You should always seek investment advice and further information before you buy shares.
Fortescue Metals Group Ltd over the past five years has recorded 38.8% annual earnings growth and has even managed to increase its profit margin. In 2016 the company reported US$7.06b in revenue and US$305m in earnings.
It's grown that to US$17.39b in revenue and US$6.19b in earnings for 2022, giving it a profit margin of 35.6%. But that is below a record margin of 46.2% in 2021.
However, it is very reliant on the iron ore price. Despite a high profit margin and a strong result in 2022, it is significantly below 2021. Weakness in the iron ore price has a knock-on effect to the FMG share price.
The company's stock has been impacted by negative earnings growth over the year of 39.8%. This does make it hard to compare to the mining industry overall which saw earnings increase of 33% over the past 12 months.
One of its close competitors Rio Tinto (RIO) was able to increase its earnings over the last twelve years. Rio in fact exceeded the metals and mining industry with its diverse portfolio of metals including aluminium and copper.
Despite this, Fortescue is still a solid performer for investors. Its share price has risen from around $4.80 in 2017 to now sitting at $16.77 in October. That's a 250% increase over 5 years. Even in just the last 12 months the company has been able to increase its price by 15.58%.
However, at time of writing its price is at the lowest level seen in 2022. That's despite the progress with the Iron Bridge Magnetite Project and a potential project in Africa.
The company's 52-week high stock price is $22.99, while its 52-week low stock price is $13.90. Still a massive increase from where it was back in 2017.
Fortescue Metals Group P/E ratio
Fortescue Metals Group current share price dividend by its per-share earnings over a 12-month period gives a trailing price/earnings ratio of 5.3x. So Fortescue shares trade at just over 5x recent earnings.
The P/E ratio for its peers is 4x which does make Fortescue Metals expensive compared to other companies.
Fortescue Metals Group's EBITDA
Fortescue Metals EBITDA (earnings before interest, taxes, depreciation and amortisation) is $8.52b for the first fiscal semester of 2022.
The EBITDA is a measure of the company's overall financial performance and is widely used to measure its profitability.
Does Fortescue Metals Group Ltd (FMG) pay dividends?
Like many ASX shares producing metals and materials, the Fortescue Metals Group has a fully franked dividend yield. In fact, the company has been paying dividends consistently since it first began in 2012.
As of 20 October 2022's share price, the 29 September 2022 distributed dividend of $1.21 per share produced a yield of 12.5%. This means that over a year, based on recent payouts, shareholders could enjoy a 12.5% return on their shares in the form of dividend payouts.
This puts its dividend payout in the top 25% of dividend players in the Australian market.
So it's no surprise that FMG has made our list of the top dividends stocks on ASX.
Does Fortescue Metals Group offer shareholders a dividend reinvestment plan?
The company provides shareholders with the option to automatically reinvest some or all of their dividends in additional shares through the FMG Dividend Reinvestment Plan.
Participation in the reinvestment plan is entirely optional and all shareholders with an Australian or New Zealand address are eligible to participate.
You should take your personal circumstances into account and seek personalised financial advice before undertaking any investment strategy.
Has Fortescue Metals Group Ltd (FMG) had a stock split?
Fortescue Metals has undertaken three stock splits in the past. The first was a 5-1 stock split in 1998 while its last one was a 10-1 split in 2007. So if you had owned 1 share a day before the split, the next day you would own 10 shares.
The move followed a shareholder vote to increase the number of shares on issue to 2.8 billion. Fortescue at the time said the split should improve liquidity and make its stock price more attractive with retail investors.
🎓 Learn more: What is a stock split?
---
Megan is a markets analyst at Stake, with 7 years of experience in the world of investing and a Master's degree in Business and Economics from The University of Sydney Business School. Megan has extensive knowledge of the UK markets, working as an analyst at ARCH Emerging Markets - a UK investment advisory platform focused on private equity. Previously she also worked as an analyst at Australian robo advisor Stockspot, where she researched ASX listed equities and helped construct the company's portfolios.