SMSF Explained - SMSF Compliance
With great power comes great responsibility. Understand SMSF compliance and how partnering with professional SMSF administrators can significantly reduce the time & headspace required.
SMSF Compliance: Self-managed super fund regulations
With great power comes great responsibility and whilst it's true that self-managed super funds (SMSFs) have significantly more compliance and administrative responsibilities than other retail or industry funds, partnering with professional SMSF administrators can significantly reduce the time & headspace required as well as the risk of non-compliance.
How is an SMSF regulated?
Self-managed superannuation funds are regulated by the Australian Taxation Office (ATO) and the Australian Securities and Investment Commission (ASIC).
What laws does an SMSF need to adhere to?
The overarching laws that SMSFs must comply with are the Superannuation Industry (Supervision) Act 1993 (SIS Act). The SIS Act provides a guide for SMSFs and sets out clear and specific regulations that SMSF trustees must comply with to avoid breaches and potential penalties imposed by the Australia Taxation Office (ATO).
Additionally, SMSFs must pay tax in adherence with the 'Income Tax Assessment Act 1997' and the 'Corporations Act 2001' should be considered by SMSFs with a corporate trustee structure.
What administration tasks are required to manage SMSF compliance?
Running a self-managed superannuation fund comes with a range of responsibilities and reporting requirements. This is why most SMSF trustees appoint specialist SMSF accountants or administrators, like Stake Super, to manage the administration and compliance of their funds.
Some key administrative tasks that are required to manage SMSF compliance include:
Reconciling all SMSF transactions each financial year
Preparing annual financial accounts and member statements
Appointing an independent auditor to undertake an annual audit
Preparing and lodging SMSF annual return (SAR)
Ensuring pension calculations meet the pension standards
Annually reviewing and updating the fund's investment strategy
Monitoring contribution caps
Ensuring fund investments are held under the correct ownership
Ensuring proper and accurate records are kept
Ensuring the fund's trust deed is kept up to date with any legislation changes
Obtaining a market value for certain investments (e.g., property or unlisted assets)
As a full service SMSF administrator, Stake Super supports all of the above, significantly reducing the administrative and compliance burden of having an SMSF.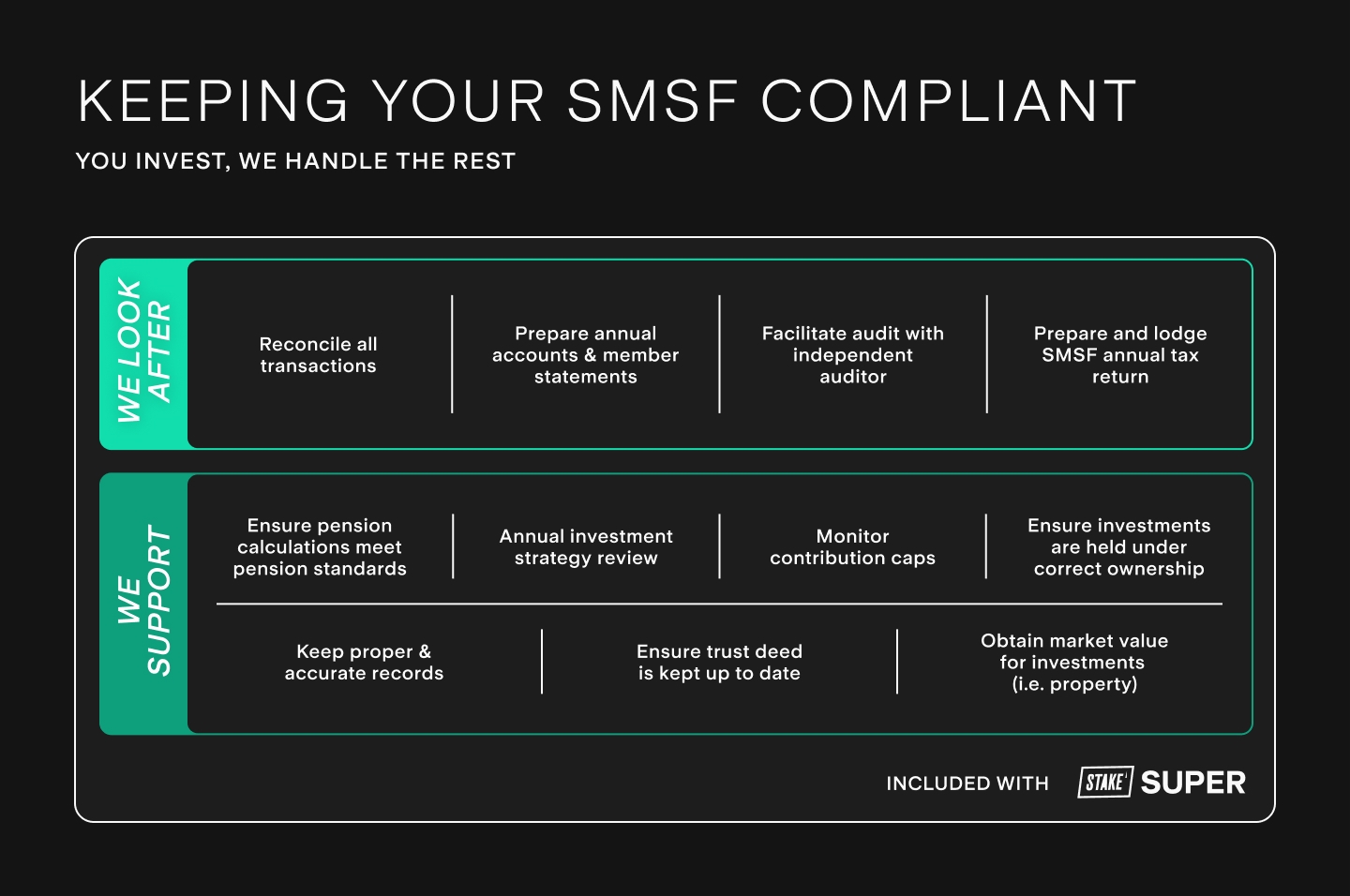 What is the sole purpose test?
With respect to SMSFs, the sole purpose test is designed to ensure that SMSF trustees establish and manage their superannuation fund for the purpose of providing retirement benefits to members upon their retirement.
How does the sole purpose test apply to self-managed super funds?
The sole purpose test's objective is to avoid the spend of superannuation funds for personal benefit before meeting a condition of release. To be eligible for the superannuation tax concessions and maintain compliance status, the self-managed superannuation fund needs to satisfy the sole purpose test. The SMSF's investment strategy should also broadly outline how members' super funds will be invested to meet the sole purpose objective.
What are the penalties for SMSF non-compliance?
The ATO can impose penalties ranging in severity to SMSF trustees for non-compliance of the superannuation and taxation laws. The level of penalty imposed can depend on the seriousness and the impact of the compliance breach along with how long the breach continues unrectified.
The types of action the ATO can take include:
Direction for SMSF trustees to undertake an education course
Enforceable undertaking
Direction to rectify the contravention
Administrative penalties
Disqualification of an SMSF trustee
Civil and criminal penalties
Allowing the SMSF to wind up
Notice of non-compliance
Freezing an SMSF's assets
The most serious SMSF breaches include illegal early access to superannuation benefits and breaching in-house asset rules.
What to do if you receive a breach notification from the ATO?
If a trustee does not complete SMSF compliance tasks and receives a notification of breach from the ATO they should start developing a plan to rectify the breach as soon as possible. They should seek professional advice or speak with their fund's auditor on how best to rectify the non-compliance if they are unsure of what to do.